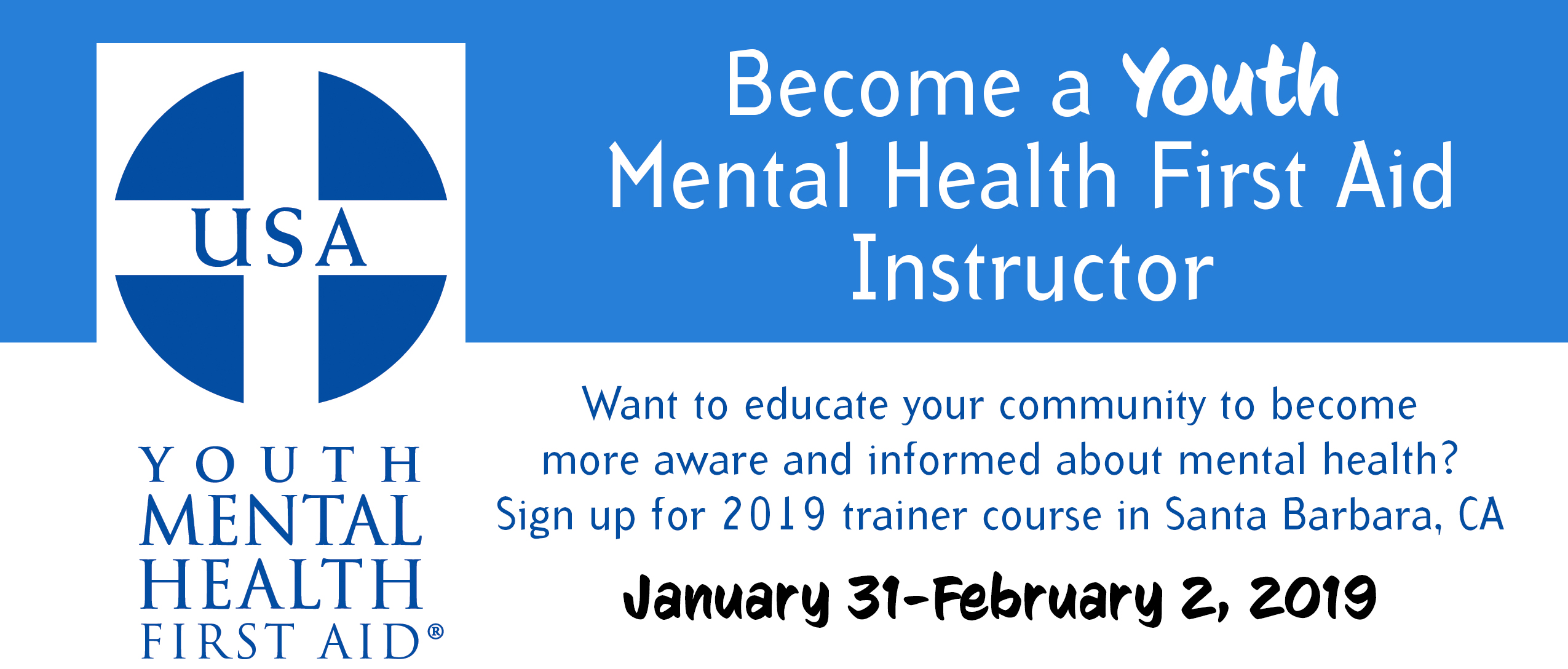 Instructor Certification
Expand+ the sections below to learn more and register.
PRINT FLYER >>  l  QUESTIONS: email us

INSTRUCTOR TRAINING

DATE: January 31 - February 2, 2019 [3 days]
TIME: 9:00AM-5:00pm
LOCATION: Mental Wellness Center, 617 Garden St. Santa Barbara, CA
SPACES AVAILABLE: 15
COST: $1,450

5-day training for new instructor
Breakfast and lunch
Training materials

CONTACT:

[email protected]

or Jeannie at 805.884.8440
**To become certified, participants must be present for entire training, deliver the presentation and pass a written exam.
---
STEPS TO REGISTER
PRINT Instructor Application >>
Email your completed application to

[email protected]


or Mail: Mental Wellness Center, 617 Garden St, SB CA 93101


-

The Mental Wellness Center will contact you to let you know your application has been approved. Email

[email protected]

or call Jeannie, 805.884.8440 if you have questions.


-

Make a payment. (Payment guidelines are provided when your application is accepted for a program. Payment is NOT required at the time of application, but is required to reserve your spot in a training session.)
What instructors do..
Instructors are on the frontlines of the program and train people in their communities in Mental Health First Aid. Certified instructors are required to teach the course at least three times per year. Instructors teach from a national curriculum, tailor discussions to their participants and compile a list of local resources for help.
Instructor certification results from a 5-day training that presents the Mental Health First Aid 8-hour course and provides in-depth instruction on facilitating the course. The training includes a written exam and evaluates each candidate's ability to present the 8-hour Mental Health First Aid course to a variety of audiences. Become certified to teach the adult or youth curriculum, or both. Once certified, instructors must teach the course at least three times per year to maintain their certification.
Only certified Instructors can teach the 8-hour Mental Health First Aid course to the public. Instructors may organize courses in their communities and may charge a fee. They must provide Mental Health First Aid USA participant manuals to all those who attend the course.
INSTRUCTOR ROLE, LEARN MORE >>
---
Why become an instructor?
Certified Instructors may teach 8-hour Youth Mental Health First Aid course to any audiences in their  community including other staff members in their organization, business, or school.
Youth Mental Health First Aid Instructor Certification trainings are approved for 32
continuing education credits for NASW. Training participants know must bring their license number to the training if they will be requesting CEs. Participants must sign-in and sign-out on the CE sign in sheet every day in order to receive the CEs. The CE requests will be processed by the National Council within 30-60 days following the training, and participants will receive their CE certificates via email.
---
Youth Mental Health First Aid instructor training teaches you how to:
Teach Youth Mental Health First Aid course, including the 5-step action plan, evidence-supported treatment and self-help strategies, and prevalence data. Present program with fidelity to the tested, core model. Apply the program to a range of adult learning styles. Tailor presentations to diverse audiences and learning environments.
NOTE: There are 2 Course types offered nationally. If you want to teach both Youth & Adult courses, you must first certify as an Instructor through a new Instructor training (for 1 course), and then go through a 2.5-day training for the other course you wish to teach. Instructors are required to teach the course at least 3 times per year to maintain their certification.
Just as CPR helps you assist an individual having a heart attack, Mental Health First Aid helps you assist someone experiencing a mental health or substance use-related crisis. Learn the importance of early intervention. Learn the risk factors and warning signs for mental health and substance use concerns, strategies for how to help someone in both crisis and non-crisis situations, and how to connect youth to appropriate care.
Youth Mental Health First Aid is designed to teach parents, family members, caregivers, teachers, school staff, peers, neighbors, health & human services workers, & other caring citizens how to help youth (age 12-18).
Introduces common mental health challenges for youth, reviews typical adolescent development, and teaches a 5-step action plan for how to help young people in both crisis and non-crisis situations.
Topics covered include anxiety, depression, substance use, disorders in which psychosis may occur, disruptive behavior disorders (including ADHD), and eating disorders.
Thank you!
Through a SAMHSA grant, Family Service Agency (FSA), Mental Wellness Center (MWC), and the YouthWell Coalition are able to provide more community education around mental health as a way to support youth in our community.